In the US, the fight for the best bargains still takes place in physical shops to a large extent and Black Friday is often the day with the highest turnover of the year. In Germany, the bargain hunt mainly takes place online. The shoppers also don't just have one day to pick the best deals: The period is often extended until the following Monday, the so called Cyber Monday.
Black Friday: Over half a century old
Historically, Black Friday dates back to the 1950s: According to legend, the police are said to have coined the term in the city of Philadelphia. They used the term "Black Friday" to describe the crowds that roamed the streets the day after Thanksgiving. The bridge day was a day off for many and it was used to run errands for Christmas. Also, on the following Saturday, a big football game took place in Philadelphia. Since the police were always very busy that day and the day never passed without overtime, they called this Friday "Black Friday". Over time, the term has prevailed throughout the country. In Germany, the term was first used in 2006, when Apple celebrated Black Friday in the country.
Trends in online shopping: This is how shoppers tackle Black Friday
Spontaneous buyers represent an optimal target group for bargains: In a survey carried out by Statista in 2018, 40% of respondents replied that they would spontaneously choose a product, while 43% said they would choose articles they had already been planning on purchasing for some time.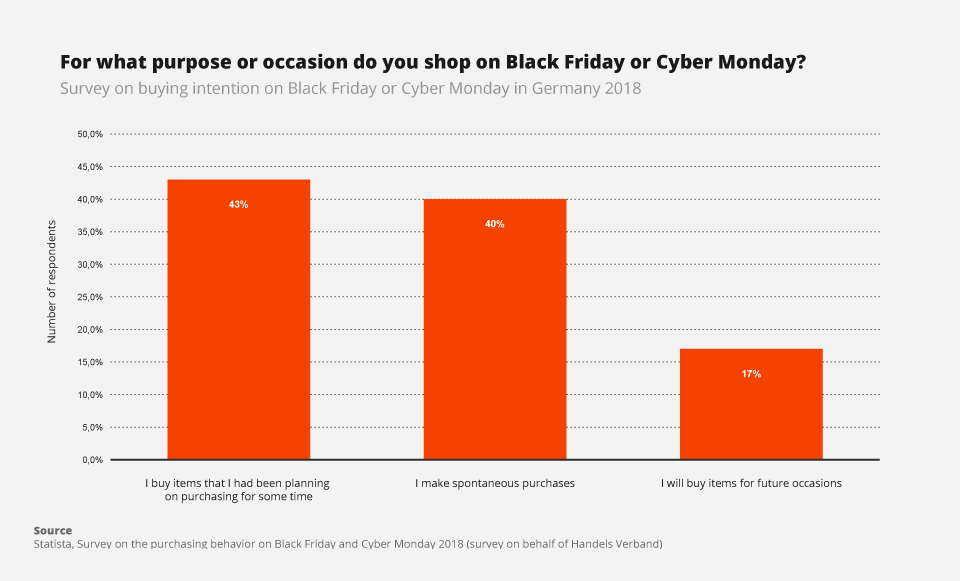 Sales Forecast for Black Friday 2019
Compared to a normal business week, shopping in the time from Black Friday to Cyber Monday generates up to three times the regular volume in online sales. In some European countries, especially in Germany, online sales are even higher on these days than in the entire pre-Christmas shopping period. GfK, Germany's largest market research institute, expects that the sales of the previous year will once again be surpassed this year.
The market researchers of GfK have found that consumers take a close look when comparing prices in order not to fall for the wrong offer.
Over 82% of Germans plan to buy something on these special shopping days, 62% plan to spend 300€ or more.
According to a poll by Black Friday GmbH, the majority of respondents will do the shopping directly on Black Friday. But 36% plan to makes their purchases on Cyber Monday.
In addition, customers would expect rebates of between 11 and 15% across all product categories, but they were aware that extreme discounts were not feasible for all categories.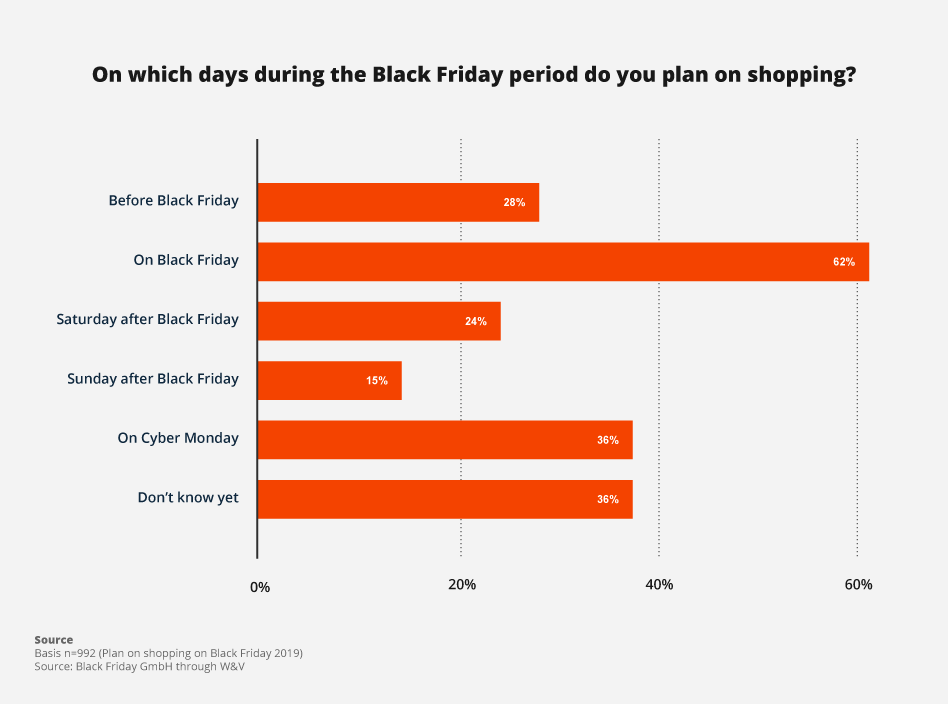 Source: W&V
In 2018, German retailers already generated sales of 2.4 billion euros both online and offline. Black Friday GmbH expects sales of 3 billion euros in the period from Friday to Monday this year. This year, too, sellers can expect a successful Black Friday and lucrative offers for buyers throughout the weekend, including Cyber Monday. In order for buyers to take advantage of the offers, the deals should not only be designed to draw attention, but should also be transparent in terms of pricing.
How online shops can prepare for Black Friday and Cyber Monday
#1 Use bright colors
You want to attract attention with your offers, as do all shop owners on the main shopping days of the year. How not to draw their attention? With sliders. Sliders are demonstrably ignored by website visitors. Try to do it better: the trend in landing page design and social media posting is towards strong, vibrant colors and gradients that liven up the background of a picture.

#2 Present offers in a way that makes them easy to understand
Potential buyers compare the offers closely and try to understand whether the offers are actually benefitial. Therefore, when presenting your products or services you should make sure that your offers are comprehensible and easy to compare.
When selling physical products, you should also pay attention to high-quality product images or videos, as these facilitate the customer's purchasing decision as the trends in e-commerce show. . Furthermore, quality seals can have a positive effect on the purchase decision, as they convey to the customer that it is a high-quality product.

#3 Strong performance in loading times
Websites should not only convince visitors visually, they should also load quickly. If users are confronted with a white loading page for more than a second when trying to browse their favorite item, they are likely to look elsewhere instead. Online retailers should do their utmost to keep their pages loading fast, even during rush hours. InterNetX offers the perfect solution here: die perfekte Lösung: The PROCEED service automatically implements SSL-certificates and at the same time increases server performance through SSL offloading and its own CDN.
You should not forget the increased volume of customer inquiries: consider in advance how tickets and customer inquiries can be dealt with swiftly and customer-oriented. The abilit< to respond quickly to inquiries on all communication channels – e-mail, live chat, social media or on the phone – is undoubtedly one of the success factors of Black Friday. Prepare your employees for the increased number of inquiries and provide them with the right tools. As it should always be the case, the focus should be on the customers around Black Friday. Try to provide them with the best shopping experience.
Black Cyber Deals at InterNetX
InterNetX too uses Thanksgiving as an opportunity to say thank you. Become part of the club and benefit from our member benefits even before the start of Black Cyber Week.
This year the Black Cyber Deals are back at InterNetX: the offers will start on Black Friday and will be available for a full week. Not only many domain extensions, but also server products and SSL certificates will see large discounts. Have a look and start saving!