We've all been there before: Sometimes the past returns to haunt you in the present. Legacies can be a boon – but also a burden. This phenomenon is also true for the domain industry – but with the difference that it is not about your own legacy, but that of the former domain owner(s).
Picture the following scenario: You secure a cheap domain that has previously been used by another, create an impeccable online presence under the supposed dream domain and finally take it live – so far, so good. But the days and weeks pass and the website does not want to generate good traffic despite numerous SEO measures. This may be due to the fact that the background of your domain, the so-called domain history, has not left a very positive impression on Google.
Google may penalize websites with negative domain history
Due to the company's enormous market share in the search business, the Google ranking plays a considerable part in the success of a website. As such, a professional SEO strategy has long been mandatory for anyone who wants to promote their business online. When buying a domain that had already been used before, it is important to check how Google has rated the website in the past. Below we take a closer look at how you can do this. First of all, though, let's look at the question of when Google views domains negative at all.
This much is certain: There are plenty of reasons why Google's search algorithm does not let a website rank well. In recent years, three Google SEO updates in particular have caused a stir: Panda, Penguin and Hummingbird. While the quality of a website, for example in terms of content or usability, became an even more important ranking criterion with the Panda update, the Penguin update was aimed at punishing websites that spread spam and/or disobey the Google Webmaster Guidelines with lower rankings. In contrast, the Hummingbird update took on the complete search algorithm: Since 2013, the search engine no longer just searches for the terms in a single query, but interprets them holistically, trying to better understand the user.
So, before deciding on a "used" domain, you should always test the extent to which the previous owner was SEO-savvy. Of course, this also includes the review of what content was previously offered under the desired domain. Or would you like to use a domain that has ever hosted malware or that has been filled with non-legitimate content? We also recommend taking a closer look at the backlink profile. If the domain has too many toxic backlinks, it is advisable to opt for another alternative.
Of course, talking about buying an auction domain or an expired domain that has had a good reputation with Google in the past makes a lot of sense – it can even offer some opportunities from an SEO perspective.
Checking the domain history made easy
Do not worry: When analyzing a domain history, you are not on your own. The Internet has come up with some useful tools in recent years that make it easier for you to check the history of a domain.
Google
Also for this purpose, the world's largest search engine proves useful. Simply enter "site:" in the search mask and the alleged desired domain, e.g. "site: desireddomain.com" – and you can see if the domain has been indexed by Google or not.
Wayback Machine
If you want to know what a domain looked like in the past, the Wayback Machine is the place for you. To find out more about a particular domain history, all you have to do is type in the domain in the Internet Archive search box. The special benefit: The Wayback Machine provides you with results at different times in a calendar view.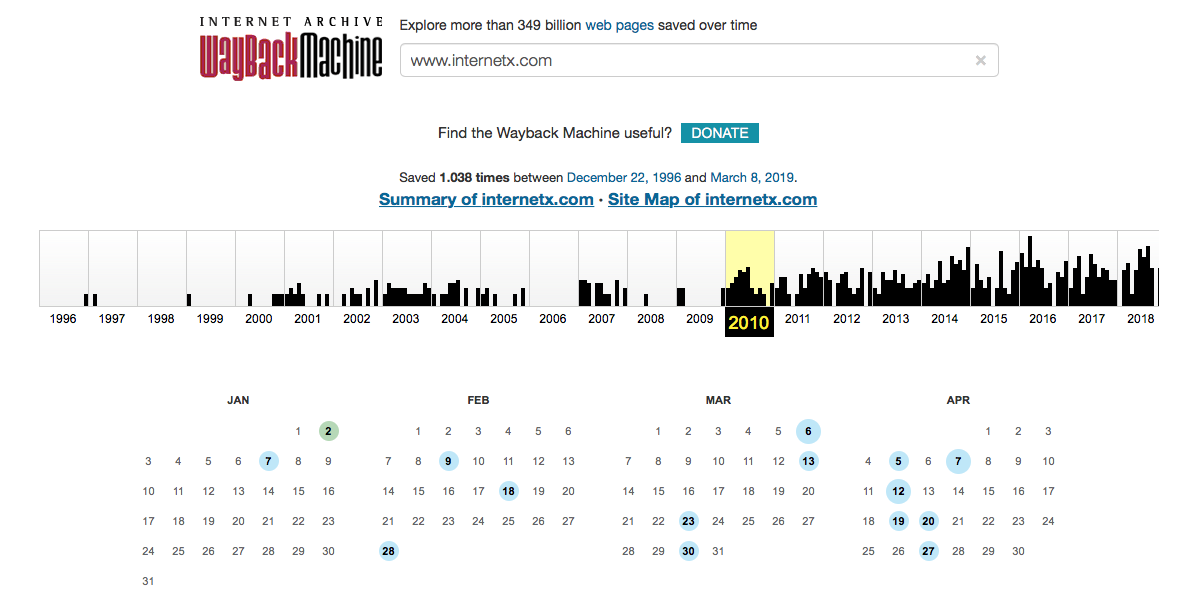 Whois
Information about when a domain was registered, the registrant and other interesting data, are provided by the Whois.
Spamhaus Project
With the help of the always up-to-date lists of the Spamhaus Project, you can quickly find out with little effort whether the domain of your choice has made a name for itself as a spam website.
Bitdefender TrafficLight
Buying a domain that has been used to distribute malware unsurprisingly counts as a no-go. The online tool Bitdefender TrafficLight allows you to check if a domain already has experience with malware.
Can I just reset a domain?
Unfortunately, things are not as simple as that. This is also pointed out by John Müller, Webmaster Trends Analyst at Google. On Reddit, he pointed out some time ago that there would be no reset button for domains, even internally. The owners of a domain with a bad history would thus have three options: Living with the domain's history, cleaning it up as best as possible or resorting to an alternative.
So as always it's better to be safe than sorry and to check the domain history before making a purchase, don't you agree? Thanks to various free online tools, you can quickly find out about the history of your desired domain.