.inc is in the midst of launching: The Sunrise Phase of the new gTLD has already started on March 27, 2019 and will continue until April 30, 2019, 4:59 PM (CEST). During this time, only brand owners can get their .inc domain – provided that they have an entry in the Trademark Clearinghouse, of course. Between April 30, 2019, 5:00 PM (CEST) and May 7, 2019, 4:59 PM (CEST), .inc will then go through the Early Access Phase, where registration is open to anyone paying an extra charge. The prices are staggered during this time and will become cheaper each day. On May 7, 2019, 5:00 PM (CEST), everyone will finally be allowed to register a .inc domain. But don't forget: It's first come, first served.
.inc is downright screaming for business
Anyone who moves in the international business world is surely no stranger to the abbreviation "Inc." for "Incorporated". It is a common legal entity in the USA. According to Intercap, the registry of .inc, 60% of all company names on the US stock exchanges NYSE and NASDA currently use the legal form INC. But in other countries, such as Australia, China or India, Inc. is common too. Thanks to big players such as Facebook or Google's parent company Alphabet, which use Inc. as a legal form, many people in the rest of the world are now using the abbreviation for their company name. The slogan ".inc means business", with which the registry advertises, is definitely not a coincidence.
That .inc isn't only targeted at potential buyers from the US becomes clear when taking a closer look at the registry restrictions – there aren't any. .inc domains can be registered in the official language of over 190 countries.
.inc does not necessarily contain INC.
With .inc another new gTLD joins the group of business TLDs. But a certain aspect differentiates .inc from the other representatives: The domain extension does not have any specific registration requirements, such as is the case for .gmbh (for German limited-liability companies), where the registrant must prove that his company has been registered as a GmbH in a public register. In principle this means that everybody can register a .inc domain. But keep in mind that the cost of a registration under .inc are higher than average – but for good reasons. Intercap has decided to offer the Business TLD at a standard premium price. The idea behind it: Ideally, only companies should be able to afford the high price to register .inc domains, not private sellers speculating on cybersquatting only. This has two advantages for companies: On the one hand, they are not forced to secure their own .inc domain immediately, and on the other hand, they do not have to worry about overpriced offers from private buyers who were faster.
Benefit from .inc in multiple ways
But there is more: As .inc registrant you won't only get a meaningful domain, you can also expect many great benefits (worth over US$ 2,500), including benefits from Google Ads, Indeed or Vistaprint. As Intercap themselves point out, the domain extension is therefore much more than an ordinary business TLD – .inc is a business solution.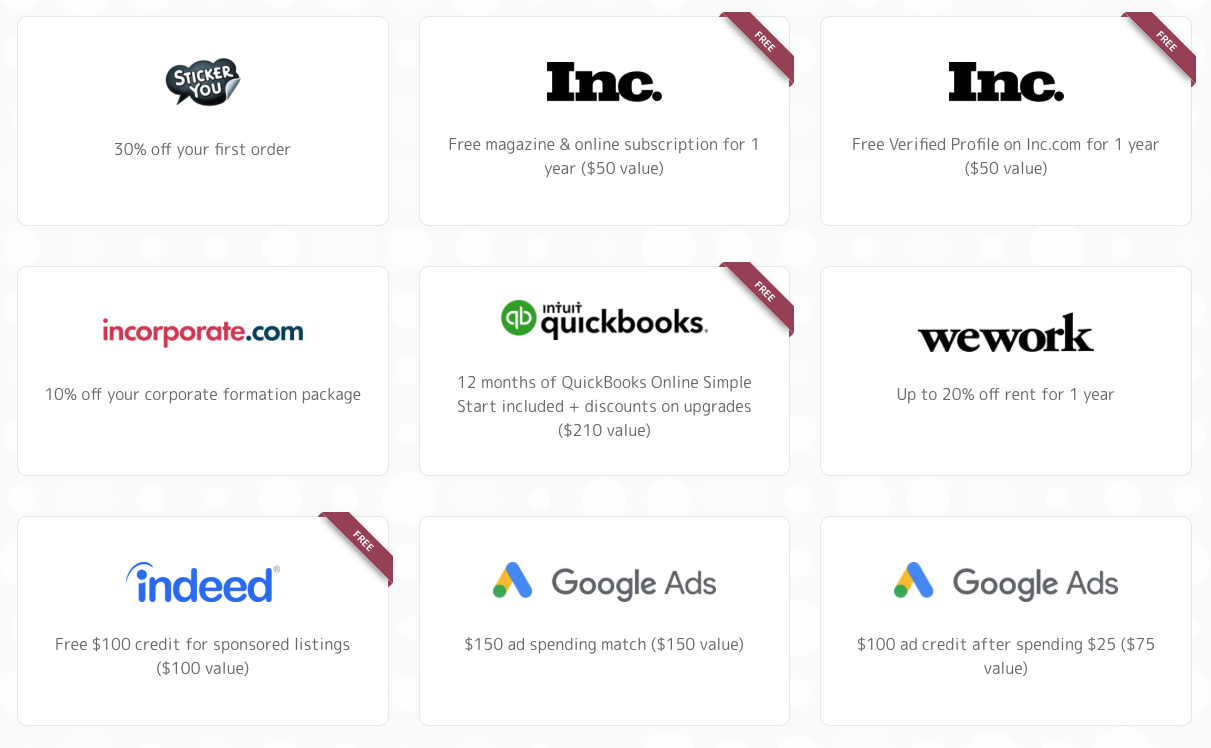 Some of the .inc benefits
.inc is as versatile as your business
No matter which way you want to present your business online: With .inc you have the ideal new gTLD at your disposal. Because – as mentioned earlier – the abbreviation "Inc." is unmistakably associated with companies all over the world. If you come across a .inc domain, you will immediately know what to expect: a business website.
Intercap lists a number of use-cases for the business TLD on the official .inc website:
Corporate websites
Having their own Internet presence has long been a must-have for businesses. With the help of a .inc domain users immediately recognize you as a company doing business online and you can set up a meaningful home on the net.
Newsrooms
Product presentations, change of leadership, social commitment, etc. – there are plenty of topics companies can (or should rather be) report on as part of the everyday business. Why not use a .inc domain for this?
Investor relations websites
Of course, your investors also want to stay up to date. The solution: A dedicated website for investor relations. Thanks to .inc the connection to the company becomes immediately visible.
Job application portals
As a company, you are constantly looking for new talent. An applicant portal under the .inc extension can simplify the recruiting process for both the applicant and the prospective employer.
Of course, these are just a few examples of how the business TLD can be used. In the end it's like this: .inc is easily suitable for any online presence related to a business. As the responsible registry Intercap emphasizes: ".inc means business ".
Of course, you also have the option to register .inc domains with InterNetX – easily with the help of our domain management platform AutoDNS. So what are you waiting for?