2013 was an important year for the domain industry. The introduction of new TLDs marked the starting point for more variety on the Net. But critics had initially been skeptical towards the introduction of new domain extensions (short: nTLDs). Three years later we can conclude that registrants recognized the potential of the new domain extensions – in particular from a marketing perspective – and managed to benefit from it: Not only because of the availability of short and succinct domain extensions, but also because of the possibilities that come from combining domain names with nTLDs – often the basis for whole marketing campaigns.
This being said, let's talk numbers: According to recent statistics from nTLDstats, there are about 27.58 million domains with new TLDs on the market. This is an increase of about 17 million domains since 2015 – a healthy growth rate.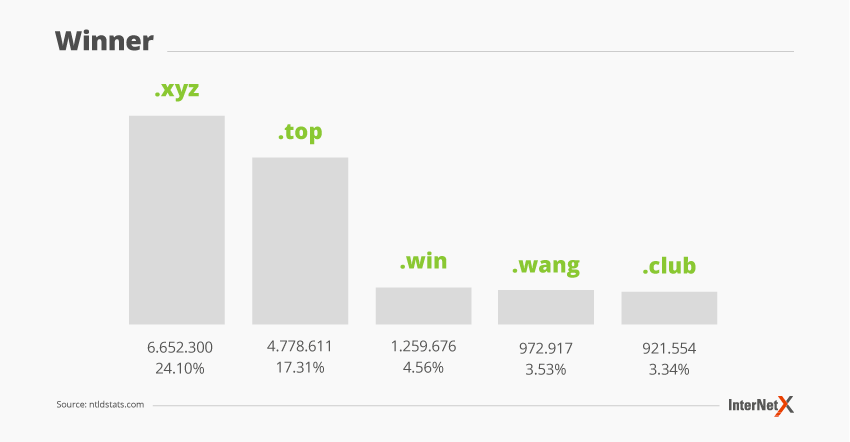 .xyz is the most popular new gTLD on the market right now. With 6.65 million registrations it managed to secure a market share of 24.10%. As the name suggests, .top is among the top new TLDs as well with 4.78 million registrations and an impressive market share of 17.31%. But the chances to dethrone .xyz in the near future are slim. The gap of two million registrations is just too large. .win is awarded the bronze medal with a market share of 4.56 percent and 1.26 million registrations. But the second place seems out of reach with a difference of 3.52 million domains. It's a different story with the ungrateful fourth place .WANG. Only about 286,000 registrations separate the extension from the podium. The gap between places four and five is even smaller: .WANG and .club are going head-to-head with only 51,363 registrations separating them. Adding up the bottom five of the top 10 ranking we get 3.29 million registrations: Less than the sole leader .top manages on its own (4.78 million).
Taking an even closer look at the top 10 we see that five of the top ten new gTLDs consist of three characters: .xyz, .top, .win, .bid and .vip. The conclusion is clear: Brevity is the soul of wit. This is also the reason of the great success of ccTLDs. Every country is assigned a two-character-code according to ISO 3166. This popularity of new ccTLDs actually created the need for new gTLDs. Short and catchy domains with ccTLDs have become scarce commodities.