Registering and renewing your domain is the first step to start your digital project. Just like you do to run your business operations with a long-term vision, you should focus on multi-year registrations to secure your digital asset number one for the future. While ccTLDs usually offer a renewal timeframe from one to three years, some TLDs can be renewed up to nine years. Think ahead: with a multi-year domain registration you can save time, money and build authority in the long term.
Why a multi-year domain registration?
It allows your business to define strategies, objectives, and activities for longer time frames. A multi-year plan is an essential activity for every company with long-term business goals. Having a web presence has become essential today, that is why domains form a vital part of your business assets. Registering domains for a longer period helps focus on the core business, avoids wasting time, and brings significant advantages.
If your digital project is tied to a professional objective in the medium or long term, you should not hesitate to carry out a thoughtful multi-year domain registration.
These are the benefits of a multi-year domain registration
You can register some domains like .com with a multi-year program, usually up to a maximum of ten years. Is it overall advisable to renew a domain for several years? The answer is yes – registering a domain for a long time takes significant advantages with it. We present to you how you can benefit from a multi-year domain registration:
1- Extend the renewal expiration date
Renewing your domain is a fundamental action for your business operations. Forgetting the deadline could have drastic consequences! You could lose ownership and all services associated with your domain and email (!) will stop working. A retrieval is possible only under certain circumstances.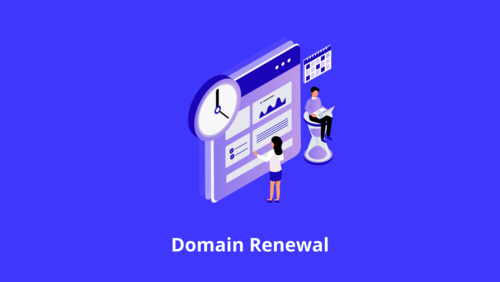 If you failed to meet the domain renewal deadline, don't panic. Often you have the chance to recover it.
Let us tell you how.
A trivial forgetfulness can cost a lot. Take for example what happened, in 2017, to the Silicon Valley-based Marketo – a billion dollar company that was bought by Adobe for 4.75 billion USD in 2018. They saw that their website was down, while apps and services failed to open. Why? Because they forgot to renew their domain name.
Can you believe that even a global IT powerhouse like Google forgot to renew its domains? In April 2021 the Google domain for Argentina was bought by a third party through a regular legal process. Google Argentina told the BBC: "For a short term, the domain was acquired by someone else." Google Argentina's domain name changed hands for only 2.90 USD! It seems like Google had "simply" forgotten to renew its domains. And this was not even the first time! In September 2015, google.com, probably the most valuable domain name on Earth, was briefly on sale for for only 12 USD!
If this happened both to a fast-growing digital startup and to one of the biggest digital giants, it could potentially hit everyone. How do you make sure you give your domain more security? Extend its duration with a multi-year plan domain registration!
Renew your gTLDs for up to 9 years or register it up to 10 years in AutoDNS.
2- Profit from discounted prices
Domain prices are not steady. Year after year, ICANN has allowed registries to increase registration prices for the most common gTLDs. For example, in 2019 they lifted all price caps for .org and, in 2020, they allowed Verisign to increase prices for .com registrations by more than 70% over the course of the next decade. The first price hike for .com registrations and renewals of 7% comes into effect in September 2021. By 2025, the wholesale price for .com registrations and renewals will increase combined by 30.7%.
The scenario is even more dynamic for the new gTLDs. The limited registration numbers compared to the fixed costs the registries have to bear led to some sensational fee increases for registrations and renewals.
Warning signs were to be seen in 2017 already. Some gTLDs, like .pro, increased in price by 11% starting in 2020, others jumped by more than 1,000%. Such is the case of .hosting, which went from 20 USD/year to 300 USD/year. Avoid running into significant price hikes and think ahead. With a multi-year domain registration, the valid renewal fee will be the one at the time of the order. Your business is therefore protected from unexpected disbursements.
3- Domain age offers SEO advantages, but...
Can a long-term domain name registration help you in your SEO rankings? The answer is generally yes, but you should not overestimate the domain age factor. How old a domain name is cannot determine either the quality or the trustworthiness of its website. As confirmed by Google, it takes only a few months after the initial crawl for a new website to appear in the search results.