All domain extensions from a single source
with excellent domain support
Conquer the world of domains with InterNetX:
In addition to our offerings of various top-level domains and new gTLDs, we convince our customers as an internationally renowned premium partner with our domain know-how and domain management services -primarily for resellers: Checking, buying, registering and managing domains - has never been so simple, safe and exciting as with us.
With
AutoDNS
– our domain management software for domain professionals in domain trading – with numerous features such as DomainSafe, Name Server Products, Whois Privacy Service.
InterNetX supports B2B customers and domain resellers with various offers and tools that make professional and customer-oriented domain management possible.
With us, agencies, companies and domain resellers can efficiently handle all the challenges that domain trading entails:
In addition to Domain Price Checks, we also provide support for SSL Certificates and the Trademark Clearinghouse Procedure.
Domain security is always important to us.
All offers and prices are only available to business customers in terms of § 14 BGB and exclude legal VAT.
1 All offers only apply to the first year of new registrations within the specified periods. The minimum registration period is 12 months. Premium domains are excluded.
Free SSL certificate for every managed domain
"Encryption Everywhere" – with this initiative in cooperation with DigiCert, InterNetX aims to encrypte all websites with SSL certificates in order to make the online data transfer safer.
Therefore, you can encrypt all your domains managed at InterNetX with a free Basic SSL certificate.

Basic SSL is available for all InterNetX customers.
| | |
| --- | --- |
| | almost 100% browser compatibility |
| DNS based domain validation | real-time issue of certificates |
AutoDNS – Domain Management for Experts
InterNetX customers can choose between two basic AutoDNS alternatives: AutoDNS DIRECT, the prepayment solution with payments made in US$ and a focus on the international market or the classical AutoDNS versions which give customers access to the full set of features. Compare the versions below. You also can test our new AutoDNS Plattform as our All-in-One Solution for professional domain management.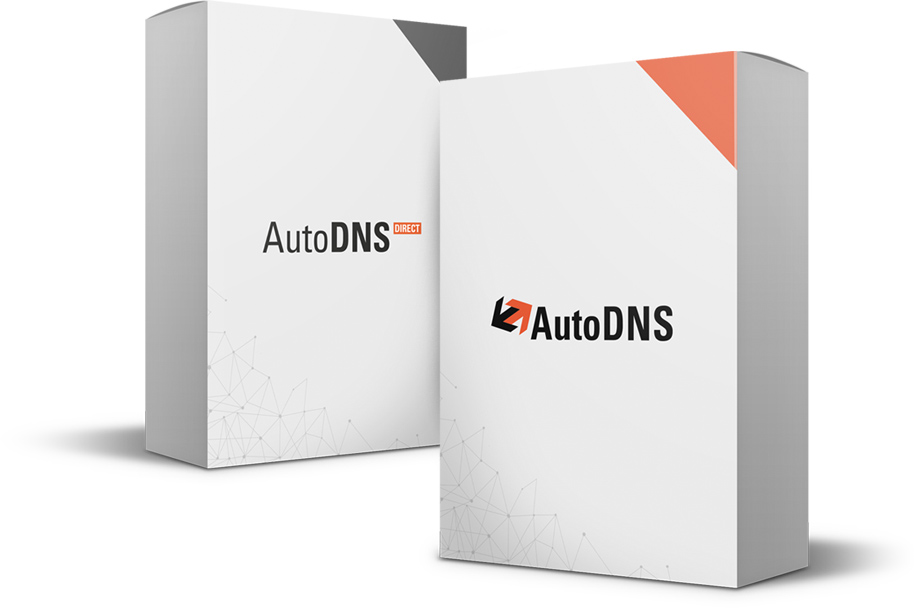 The prepayment solution
AutoDNS DIRECT gives you the opportunity to jump into the domain business within minutes! Simply sign up online and assign a payment method to fund your account, and then you can start registering domains in no time! All domains are priced in US Dollars, and our domain management system allows you to choose from more than 400 domain extensions from around the world. The most important features:
Prepayment solution
All prices in US$
Selection of over 400 TLDs
Free SSL certificate with each domain
Find out more
Domain management for professionals
The classic AutoDNS comes in three versions: Standard AutoDNS for companies and agencies, Personal AutoDNS for resellers and webhosters and Registrar AutoDNS for domain registrars. All three versions give users access to the most extensive domain portfolio, including 350 ccTLDs and all gTLDs! Payments are made in EUR and users can choose from different payment options, excluding prepayment. The most important features:
Most extensive domain portfolio (350 ccTLDs and all gTLDs)
Payments made in EUR
Three versions for companies, resellers and registrars
Free SSL certificate with each domain
Find out more
Features
Standard AutoDNS
Personal AutoDNS
Registrar AutoDNS
AutoDNS DIRECT
Domain management – create, transfer, renew, restore, update, owner change
Free Basic SSL certificate for each domain managed in AutoDNS
Available ccTLDs and all gTLDs (incl. new gTLDs)
>900
>900
>900
>400
Currency
EUR
EUR
EUR
US$
Payment options
Postpayment
Postpayment
Postpayment
Prepayment
XML API for all TLDs and optional services
Request
Account
Request
Account
Request
Account
Sign-up
now
Your Advantages at InterNetX
Biggest variety of TLDs
The choice is yours! We offer a broad range of products: with more than 350 ccTLDs and all gTLDs InterNetX is one of the largest providers of TLDs around the globe!
Expert customer service
Our multilingual support will take care of your requests and assist you in all your technical inquiries. In case of emergency our 24/7 hotline will be at your service!
AutoDNS
With AutoDNS
–
our inhouse developed white label software
–
the administration of domains is simple, quick and versatile.
Find out more ...
Fantastic reseller conditions
As an InterNetX partner you can benefit from our excellent wholesale conditions and save money with alternating discounts and promotional offers!
Any questions? Our colleagues are happy to advise you
Get in touch for more details