TRADEMARK RESEARCH SERVICE FOR DOMAINS
INTELLIGENT DOMAIN MONITORING & BRAND CONTROL
Trademark Research is a powerful toolbox for anyone faced with the task of protecting brand names and brand keywords in the international domain universe. This intelligent tool collects data when searching for trademark infringements resulting from unauthorized third-party domain registrations in order to support trademark owners, trademark attorneys and brand managers in their everyday business of trademark protection.
The most important features at a glance
advantages of the Trademark Research Services
Keyword Monitoring
Monitor any number of keywords, such as trademarks and brand names and their use in domain names, at daily, weekly or monthly scan intervals.
Trademark Zone Scan
Using the Trademark Zone Scan, any keyword (brand name) can be searched in over 1,700 root zones. The scan is performed twice, just to be on the safe side.
350 million domains
The Trademark Clearinghouse automatically searches 350 million domains – almost all the addresses registered worldwide – for trademark infringements.
Detailed CSV export
Export your scans as CSV files. Included are: Score, Domain, TLD Group, TLD, Nameserver, Registrar, Created, Expire, OwnerC, AdminC and more.
3.5 million combinations
The intelligent search algorithm enhances the results with prefixes and suffixes from 3.5 million terms associated with trademark infringement.
Clear interface
The intuitive & flexible AutoDNS interface makes it easy to effectively use Trademark Research Services from any device, even remotely.
DISCOVER DOMAIN FRAUD
With the Trademark Research Services in AutoDNS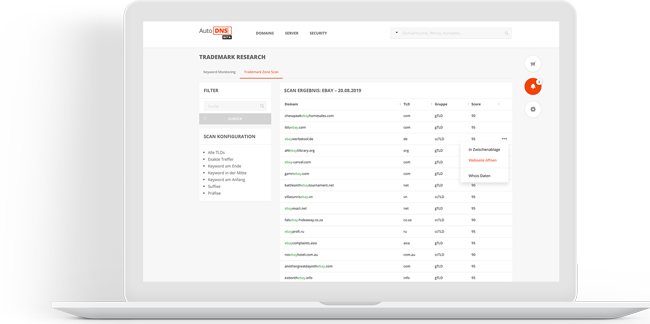 Detecting domain fraud is extremely research- and cost-intensive. Thanks to the Trademark Research Services in AutoDNS, the domain platform, it is now possible for the first time to automatically detect potential infringements of trademark law involving domains and to take prompt legal action.
Be on the trail of counterfeiters instead of just shooting in the dark! After all, getting access to comprehensive data records is only possible indirectly and at great expense. This is where InterNetX Trademark Research Services in AutoDNS can help.
Switch to Europes most popular domain registrar. AutoDNS received a platinum award at the 2019 Hosting & Service Provider Awards!
APPROXIMATELY 200 FAKE DOMAINS ARE REGISTERED FOR EACH PROTECTED TRADEMARK
PROTECT YOUR TRADEMARK DOMAINS NOW!
One in four companies worldwide are affected by domain squatting, namely, the fraudulent registration and use of domains containing protected trademark terms. In 2019, 85% of all retail brands will be affected by fake domains offering counterfeit products to potential buyers. This causes immense economic damage and keeps lawyers from all over the world busy.
Nearly 99% of counterfeit domains remain undetected due to lack of data and continue to harm brand owners on a daily basis. With the introduction of almost 1,000 new domain extensions, the problem has become even more acute. Counterfeiters can use the new generic top-level domains (gTLDs) to register registered trademarks on .COM and .DE addresses under these new domains.
These counterfeit sites are often not recognizable to users at first glance, because the correct brand name appears in the browser bar. Identical fake domains can now be found for 96% of all companies. Counterfeiters come up with tricky ideas. They replace individual letters with letters from foreign alphabets or with numbers. For example, by using a "0" instead of the letter "O." This difference is difficult or impossible to notice on the screen.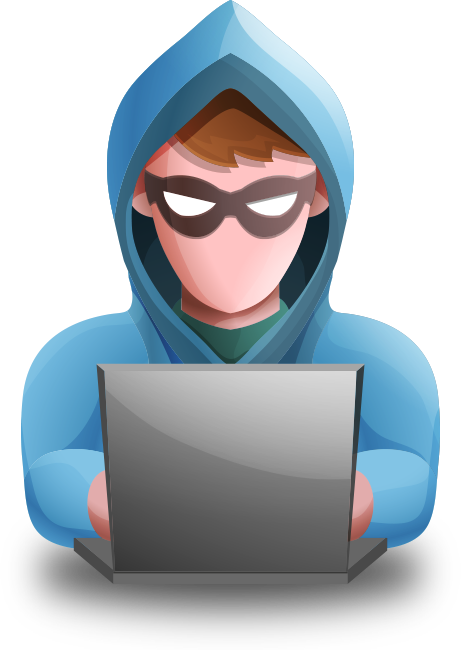 BRAND PROTECTION FOR DOMAINS HAS MANY FACES
WHO ARE THE TRADEMARK RESEARCH SERVICES DESIGNED FOR?
TRADEMARK ATTORNEYS
Register, Re-register, Transfer, Delete and Manage Brands: The everyday life of trademark attorneys is full of important and time-consuming tasks. With the increasing number of trademark infringements in the domain sector, domain law is becoming a growing market.
Use InterNetX Trademark Research Services to effectively protect your clients' brands and domains. Automate the tedious research work now and use the gained time for what really counts: protecting your clients.
COMPANIES & BRAND MANAGERS
Monitoring your own brands is not an easy task. Scammers often copy entire product series and do not shy away from industrial espionage. With the strong growth of e-commerce, brand protection has become more than ever a digital risk management issue.
With Trademark Research Services, companies and brand owners now have the ability to independently and automatically monitor their brands for domain domain violations.
AGENCIES
Operators of digital, advertising and creative agencies are often the main point of contact for many companies and brands who need support for digital content, such as websites and domain management. Therefore, in this industry in particular, it makes sense to offer additional services, such as the regular monitoring of brand domains as a way to offer comprehensive brand management.
With the help of our Trademark Tools, you can outperform and differentiate yourself from your competitors when making sales pitches and offering bids.
COMPLEX DIGITAL PROCESSES SIMPLIFIED ON ONE PLATFORM
BRAND PROTECTION WITH AUTODNS - THE DOMAIN PLATFORM
AutoDNS AutoDNS is a flexible, extremely fast and customizable platform for professional domain users in all industries. Searching, registering, buying, selling, parking, renewing, protecting, hosting, monitoring, redirecting and reselling domains can all be done entirely via AutoDNS.
With more than 1,000 TLDs on offer, business professionals have access to one of the world's largest portfolios. Security features for domains can also be added to AutoDNS and SSL certificates can be managed via AutoDNS.
The Domain Studio, the intelligent domain search, makes it easier than ever to find domains that are available or are for sale. With a combination of geo results and AI-based search suggestions, finding the domain you want is an adventure.
All functions and services in AutoDNS offer white-label capability and can be individually priced by resellers.