Why should you shorten a link, if it only redirects users and they do not actually have to enter it anyway? Not only for this purpose or to keep a tweet brief, shortened links are useful and definitely advisable. They are also very popular as a marketing and tracking tool. The services, such as Bit.ly or Yourls, also offer a tracking system in conjunction with your own domain. A table shows the shortened URLs of the past 30 days with the total number of clicks.
Trimming URLs: That's how it works
The shortened links, often called tiny URLs, are created easily via special web pages. The most famous URL shortener is the aforementioned Bit.ly. For this provider, however, the statistics on shortened links are publicly available. If you enter the shortened URL on Bit.ly and add a "+", you can view the clicks without registering. A good alternative is Yourls (Your Own URL Shortener), a free open-source software that can be used to shorten your own domain or brand links.
Source: Yourls.org
Simply enter the shortened URL at the top of the screen, then click on "Shorten The URL" and your personal short URL will automatically be created. Including the domain extension and the dot, the shortened URL is no longer than 15 characters and can be shared as often as you like.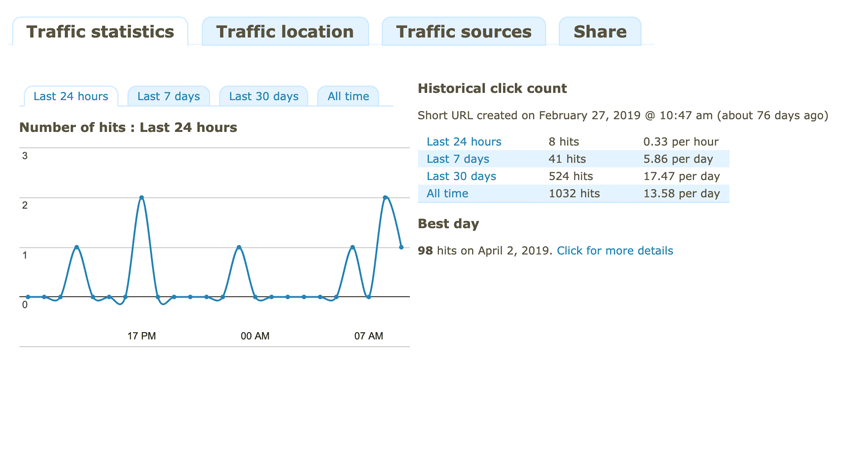 Source: Yourls.org
What does Google say about shortened URLs?
As the former Google employee and SEO expert Matt Cutts has revealed, a shortened URL has no effect on the Pagerank and can be used as a SEO backlink, as the link power is automatically inherited by the target page.
A disadvantage of tiny URLs is that a shortened URL does not make the user cannot immediately see where it leads to. Therefore, the shortened URLs are also often used by fraudsters.
The tiny URLs also have a problem in terms of durability: some will stop working after a year or two. Therefore you should always keep an eye on it from an SEO perspective.
In social networks like Twitter or Facebook, the short links are applied automatically. If the default link is inserted into a tweet or post, the URL will also be trimmed. Nevertheless, it can be useful in terms of user confidence and security to use your own URL shortener.
Is using your own URL shortener worth it?
Especially for large companies, brands and online shops, it is advisable to use a proprietary URL shortener. Trust and security are very important when it comes to links: If a link does not inspire trust in the user, they might not click on it in the first place. When using external URL shorteners, it is also possible that the statistics are public and third parties can see how many times a link has been clicked.
You should use your own URL shortener if the visibility on social media platforms is of great importance for your online presence and if you use it frequently to refer to your own offers within the platforms. In this way you can also strengthen the trust of your own domain. For example, if the links are shared frequently on Twitter or Facebook, the strength of inbound links increases and can have a positive impact on search engine optimization.
However, it's a good idea to only shorten those links that lead to your own domain. with your own URL shortener. Otherwise, there is the risk that the shortener contains non-specific links that have nothing to do with the topic of the actual online appearance.
Find your perfect short domain now